Born in Oslo in 1968, Hanne Tømta took her education at the Saint-Petersburg State Theatre Arts Academy. Her career started in 1999 when she staged a children's play in a provincial theatre on the West coast of Norway. Today she is the artistic director and the general manager at the National Theatre in Oslo, the biggest drama theatre in the country.
WHAT'S HOT: Hanne Tømta's
 ideal day starts in Frognerbadet, an Olympic-size open air swimming pool. It opens on the 18th of May for the entire summer season. Water temperature is +26 degrees. R
ead below to discover two bohemian restaurants that Hanne Tø
mta recommends.
The National Theatre as Norway's National Identity 
Norway was not completely independent as a state until 1905. Following the Black Plague in the 14th century, Norway was a part of either Denmark or Sweden. On the 17th of May, 1814, Norway declared its own constitution. Yet, the official language in the country for decades remained Danish. Establishing the National Theatre in 1899 was vitally important for Norway's national identity, as it was back then the first and only theatre in the country that held performances in Norwegian.
The Oslo Girl
Hanne Tømta has lived in Saint-Petersburg, Russia for five years, and for four in Stavanger. She also spent her time travelling as a freelance director all over Norway, but Oslo remained her favourite place: "I am very much an Oslo girl. What does it mean? I love to walk in the forest and love to swim in the sea. Even if it is cold as can be. I just love my city! It is so "unsnobbish", low key and so very friendly", she says. Hanne is full of energy, cheerful and witty. She always finds an excuse for a laugh or a joke about something. In preparation for a photo shoot, she was cleaning her desk and throwing out an empty tissue box. "Oh, I keep the napkins here for actors who come to cry", she jested (it was for her runny nose!).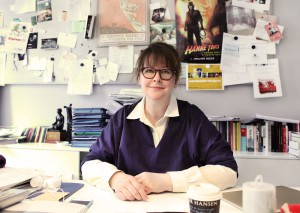 A daughter of a teacher and a policeman, Hanne already had an idea about her future at the age of 7, saying that she wanted to be either a lawyer or an actress.
Hanne Tømta: "My younger brother could play by himself for hours. But I couldn't do anything if there was no audience. I am a very social person, you know, so theatre is the prefect place for me."
When Hanne was finishing her "ungdomskole" in 1984 at the age of 15, she didn't want to go to college and was seriously thinking about an acting career. Her uncle, who was Danish and served as ambassador for many years, advised her to continue studies and pick a school where she could specialise within languages. As a result Hanne was learning Russian for the next several years in Oslo Cathedral School and later in the University of Oslo. By 1992, she took a chance and moved to Russia to study at the State Theatre Arts Academy in Saint-Petersburg. She says, "It was a cultural shock. I realised that my spoken Russian was not good at all. I struggled enormously for the first 4 months, not able to say anything more sophisticated than, "where is the bus?" I couldn't cope with the studies either as it was hard to understand the tasks. The frustration was so high that I made a decision to go back to Oslo. Surprisingly, having decided so, I let go the pressure and all of a sudden my Russian broke through!"
Five years later, Hanne Tømta came back to Oslo with a master's degree as a theatre director.
Back in Norway
It was really difficult to get a job at home. She invited all the artistic theatre directors in the country to come and see her performance diploma but the call went ignored. "So, I had to work in a restaurant as a waiter for a couple of years. Then finally I got a job offer from Sogn og Fjordane Teater from a small town called Førde. That was a children's production. I remember I read the play and I really didn't like it and wanted to turn down the offer. But my friend said, "Come on! Are you insane? Take it, make the best of it! You can't sit forever waiting for a perfect play!" Norway is a small country and it is hard to get into circles. But if you are in and you succeed then you are in for good. That children's production was Hanne Tømta's ticket to the top.
Hanne Tømta has been in charge of the National Theatre since 2009, managing the entire staff, staging plays, defining the strategy together with the board of directors. From the get-go, she has been pushing for revision of the actual theatre production and producer role at the theatre. Her goal has always been to cherish the traditions and to promote new Norwegian drama.
Folkeskikk or What It Is to Be a Good Leader in Norway
In 2015, Hanne Tømta was awarded as the Leader of the Year by HR Norge, Norway's most important independent organisation that unites around 3,000 top human resources professionals and business leaders in the country. But what is it to be a good leader in Norway? It is a social democratic society where people are resistant to authority. They don't respond to it, they even protest against it. The formula that works for Hanne Tømta is folkeskikk.
Folkeskikk is a Norwegian term that doesn't have a direct translation into English. It means common decency, courtesy, good values, good manners and fair play.
It seems that folkeskikk is in Hanne's DNA. She knows how to engage people by being friendly, low-key and very relaxed. At the same time, she is a serious, focused and extremely hard-working professional with a vision.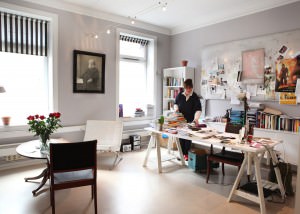 Hanne Tømta's Favourite Restaurants
"I live in a district of Oslo called St. Hanshaugen. It has its name from St. Hanshaugen Park that lies within it, where citizens used to celebrate summer solstice (St. Hans in Norwegian). We sometimes play a little game with my friends saying, "Ok, this weekend we are not allowed to go outside of our bydel (district) and only go to restaurants in the neighborhood. We discover a lot on the way! My favourite restaurant is Smalhans. Funny name—we call smalhans those who have very little money. If you hunt for amazing ecological food based on Norwegian produce, go there and taste locally produced meat, fish, beer, fresh juices and lemonades. They also have a room there that is called The Flat. It is a small space for about 14 people where they change the interior from time to time and even sell whatever their guests might like in that room: a lamp, a plant or a record player!"
Another place with traditional Norwegian food and a very special bohemian atmosphere is cafe Schrøder on Waldemar Thranes gate 8. It is an extremely low-key place that is very popular among the artistic crowd. Jo Nesbø, the most renowned contemporary writer in Norway is also a fan. In fact, a number of scenes for a Hollywood movie The Snowman (based by the novel by Jo Nesbø) were filmed in Schrøder cafe this year. So, Michael Fassbender spent quite a lot of time there in January, 2016! The movie will be released on the 13th of October. 2017.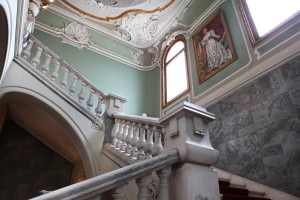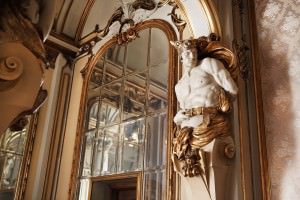 The International Ibsen Festival: 8–24 September, 2016
Henrik Ibsen is the most celebrated Norwegian writer of all time and is a national icon. The International Ibsen Festival in the National Theatre is a tribute to Norway's most important playwright. Every year, Ibsen productions from all over the world are invited to the festival. This year, it opens on September 8th and will last until September 24th. If you have a language barrier, the Ibsen Festival is the perfect place to enjoy a theatre performance as everything will be subtitled in English.
Hanne Tømta: "What can be more exotic than seeing Japanese playing Ibsen in Japanese! It is fascinating."
Theatres from France, Japan, the Netherlands, Spain, Germany and other countries are coming to Oslo to participate in the International Ibsen Festival. Get The programme and buy your ticket here.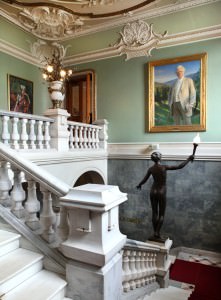 Photos: Dina Johnsen, text: Dina Johnsen/Akif Rashid