Lille Herbern Restaurant sits on a small islet on the waters of the Oslo fjord. With unbeatable views of the fjord and the charming lighthouse, Dina Fyr, this is the perfect place to relax and enjoy a meal on a lunchtime or an evening.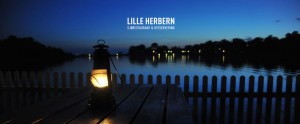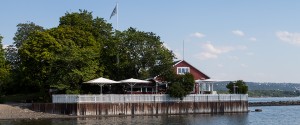 In the past, Lille Herbern used to be a place for ships to dock coming to and from Christiania (Oslo's former name). Passengers were served food and eventually a beautiful Swiss-style villa was erected. Lille Herbern Restaurant has been open continuously since 1929, making it one of Oslo's oldest restaurants.
Serving up the best seasonal ingredients, Lille Herbern has a focus on fresh fish and seafood. Try the oysters in a cucumber vinaigrette, or share the hot and cold seafood platter, featuring fresh Greenland shrimps and grilled snow crab. They also dish up entrecôte of veal and Swedish-style smorgasbords. Round off your meal with a beautiful Italian meringue, or a simple bowl of strawberries and cream.
The island is an exciting place to explore, especially for children. Lille Herbern restaurant provides special "pirate" lifejackets for children, and there are sometimes even visits from pirates who need help hunting for treasure! For hungry little pirates, the children's menu offers grilled fish or a tasty brioche burger with coleslaw.
As the summer season draws to a close, be sure to give Lille Herbern Restaurant a visit!
How to get there:
Just south of the Bygdøy peninsula on the western side of Oslo, Lille Herbern is a short ferry ride from the pier at City Hall (Rådhusbryggen).
Bus: Number 30 to Bydøynes.
Ferry: Number 91 to Bygdøynes.
Opening hours in September
Monday: Closed
Tuesday–Friday: 17:00–23:30
Weekends: 12:00–23:30
The kitchen is open until 21:00.
Contact: 
Address: Herbernveien 1, 0286 Oslo
Phone: +47 22 44 97 00
Find more information on their website.
Text: Georgina Berry / Photos: courtesy of Lille Herbern Restaurant