For Norway, 2012 was the year that the niche market of microbreweries and craft beers manifested into a cultural phenomenon. Inspired by modern American brews, Norway's beers have grown by reflecting on Nordic flavours. Although the Oslo Microbrewery has been around since 1989, the edgy and experimental beers didn't become popular until around 4 years ago.
The president of the Brewery Foundation (Bryggeri- og drikkevareforeningen), Petter Nome, advises you to skip the traditional mainstream beer and try some of the unique beers on the scene. While these beers may be a bit more expensive, they can give you a brand new beer experience. Even in the world's most expensive country to buy beer, where a cheap pint costs around 70 NOK, Norwegians are embracing flavour, the story of production, and the experience of beer rather than the price. And it shows. According to Norway's first beer sommelier, Amund Polden Arnesen, in the last 3 years almost every bar, pub, and restaurant have a speciality selection of beers. It's evident that this is less of a trend and more of an evolution of consumers' palates. Consumers expect high quality and excellent tasting beer.
Although brew styles vary greatly between brewhouses, Petter Nome says that Norwegian beers are hoppier than the fruity beers of Denmark, and have taken on a form of their own. Given the modern Norwegian brew culture origins of American IPAs, Norwegian beers are very hoppy.
Both Petter and Amund are saying that beer has become more than an alcoholic beverage, it has become a culture. TheOsloBook set out to find the most innovative and exciting breweries in Oslo—here are some of our top picks.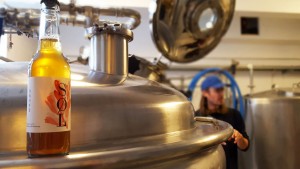 Where? On tap at Kunstnernes Hus, Rouleur, Nord & Natt, Vingen Bar, Nøkken, Dansens Hus, Frognerparken Cafe, Bruun-Larsen and Wurst
Drone Bryggeri is the cool and creative laid-back kid on the block who takes you by surprise. It was founded by a collection of artists and chefs in 2014 who wanted to bring their 'Push the Limits' mentality from the culinary and art scene to the world of brewing. They aim to have a light drinkable beer that tells a story while being fun and different. In other words, Drone Bryggeri is after more than just beer—it's the experience, and it most definitely is an experience. Some beers contain herbs such as St. John's Wort (a traditional medicinal herb used to increase mental stability), rhubarb, and even a Russian birch tree fungus.
What to try: If you try the Ichiban Dashi Pale Ale, brace yourself for an explosion in your mouth. This beer is bold and packed with flavour. Notes of skipjack tuna, which has been smoked, dried, and fermented, come alive. Seaweed undertones are reserved but are still ever present. This distinctive beer has a long finish.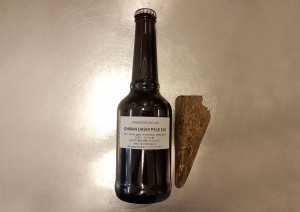 Another beer to try is Søl (yellow bottle above), a 4.7% American ale style brew that smells like a summertime honey. Don't be fooled, it's by Drone, so it's infused with Nordic seaweed, which provides a bitter and long lasting taste. The fruity and herbal essence leaves you intrigued and satisfied.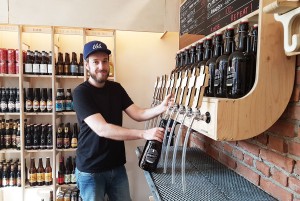 Where? Seilduksgata 26. The Little Brother takes microbrewing to the next level. Bring any sized container over one litre to their store, Growleriet, and get your beer 'to-go'. The Little Brother and various other craft brews are sold in bottles.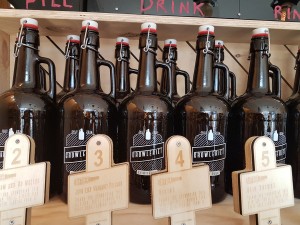 Aussie owners have brought the American concept of growlers across the pond. You can choose from 4 of their taps or 6 taps they rent to microbreweries from Oslo, Kristiansand, Bergen, and Tromsø. As of September 2016, Growleriet has filled over 900 growlers of beer, which are perfect for picnics, parties, and potlucks. The owners will transform the store into a Christmas haven at the beginning of November so that you can stock up on all your favourite Christmas beers and ciders!
What to try: Back in the Pavilion, a 4.7% Indian Pale Lager has a sweet aroma with hints of pine. It's very hoppy with a subtle bitterness. The intense carbonation makes it the perfect drink after a day of playing sports or to accompany your BBQ picnic in the park.
Where? Thorvald Meyers gate 30 (their pub has 15–20 beers from the brewery on tap). It is sold at over 20 locations in Oslo including Pøbberiet, Postkontoret, Wurst, Amerigo, Vespa, and The Nighthawk Diner. Bottled beer can be found at Vinmonopolet.
Grünerløkka Brygghus is a powerhouse of microbrews and a real educator on beers. Ever wanted to see how beer is brewed? Well, you can here. Learn about the entire process during a 60-minute tour held on weekdays or weekends. If you're looking for a more in-depth way to understand beer, sign up for a beer course where you'll learn about the history of beer and how beers are brewed. You'll even get to taste 5 different types during the 90-minute session. Be sure to check out their annual beer festival in late August. Grünerløkka Brygghus loves to brew beers that pair well with food.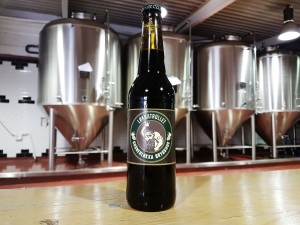 What to try: Løkkatrollet is a classic English porter with a roasted malt aroma and a hint of coffee. At 7% percent, it's a rather easy drink with a very low carbonation. Enjoy it with your favourite steak or moose dish.
Where? St. Hallvards brews can be found on tap at nearly 20 locations in Oslo including Sentralen, Hitchhiker, Smalhans, Oslo Mekaniske and Laundromat. Bottled beers can be found at all Meny locations, Vinmonopolet, and at Growleriet.
If you enjoy stories and great beer, St. Hallvards is for you. The brewery aims to tell stories of personalities from Oslo's past, by naming each beer after an unsung Oslo hero. Each bottle comes with a short story of that person's life. The name "St. Hallvard" is the guardian saint of Oslo and is depicted on the Oslo Kommune seal. If that story wasn't enough, here's one more. St. Hallvards is run by 3 beer enthusiasts, but crowd-funded by over 450 part-owners.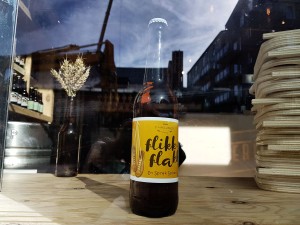 What to try: Flikk-Flakk (5.5%), is a vigorous Saison rich with a complex floral taste and a slight spice. The acidic bitterness provides for a well balanced drink. This beer is named after a man, a shoemaker by trade, who often carried well-worn leather boots and shoes on his shoulder.
Where? Stortingsgate 20. Beers are sold on tap at 10 locations in Oslo: Royal, Cafe Skansen, Homan Bistro and Beer Palace. Bottled beers can be found at Vinmonopolet and Gulating.
This place is a classic, with a friendly pub vibe and located right in the heart of Oslo. Founded in 2011, it has both a brewhouse on site for its pub as well as an off-site brewery where their bottled beers are brewed. Due to its ample brewing space, with a new brewhouse set to open next year, Amunsen Bryggeri has no boundaries.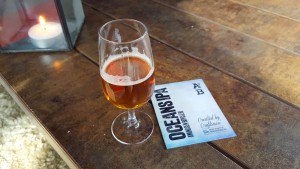 What to try: Oceans IPA. Brewed for the past 5 years, this beer has most definitely had time to get the kinks ironed out. At 6.6% alcohol content, it's a very well balanced darker malt with a solid base and not too sweet a taste. It's very floral and has hints of mango and caramel. The long lasting bitter aftertaste makes it the ideal beer to drink with spicy foods. Pair with The Amundsen Burger or Bangers and Colcannon Mash and simply sit back and relax—you're in for a treat!
TheOsloBook. Text: Lauren Guido / Photos: Dina Johnsen