Norwegian filmmaker Erik Poppe was born in Oslo in 1960, graduating in 1989 with a degree in cinematography from the Dramatiska Institutet, Stockholm. After a career as a cinematographer and press photographer, he discovered his true passion—directing films and screenwriting. With the release of his latest film, The King's Choice (Kongens nei), Erik Poppe reveals the story behind the film.
The King's Choice will premiere on Friday 23 September (only in Norwegian subtitles).
Since 1998, Erik Poppe has directed five successful films and a TV series including Hawaii, Oslo, Troubled Waters, and the English language film A Thousand Times Goodnight. His film, Troubled Waters, earned the title as 'The Best Narrative Feature Film' at the Hamptons International Film Festival. His latest epic film, The King's Choice (Kongens nei), is in the running for the 'Best Foreign Language Film' nomination for the 89th Academy Awards.
Why tell this wartime story?
The King's Choice has consumed the past four years of Erik Poppe's life. The film is set during Norway's early years when the country was ruled by a foreign king, King Haakon VII. This remarkable story is worth telling because it documents the three most heroic days in the nation's history.
The King's Choice tells the story of the series of difficult decisions King Haakon VII made leading up to 9 April 1940, the occupation of Norway by Nazi Germany. King Haakon ultimately chose to continue fighting the Nazi German troops in Norway during WWII, instead of simply surrendering.
Although King Haakon VII was actually voted for by the Norwegian people, he was the opposite of what most people imagine when they think of a king. He didn't have a giant castle with hundreds of staff, instead, he was generally alone and still regarded as a foreigner. Erik Poppe terms this situation "quite exotic". The King's Choice depicts the events which transformed this man into the people's king.
Erik Poppe: "From day one, he [the king] took the sort of mentality we have as a young nation, we struggle to keep our independence, our freedom, since we just got it."
Poppe finds it incredible that no one has told this historical event yet in a film. According to him, Operation Weserübung should have been filmed 20 or 30 years ago. The delay has allowed for distance in time and emotions for those involved, enabling a multi-layered portrait to be created, rather than a purely heroic story.
The Storyteller
Erik Poppe's mission is to be the voice of Norwegian society by creating films that resonate not only with him but also with the general public. He has devoted his life to telling stories that affect the everyday lives of those here and across the globe. When Poppe reflects on his time as a war photographer in the early part of his career, he explains that he felt like an observer rather than a stakeholder in war.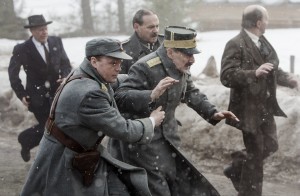 Erik Poppe: "Storytelling through the film is not the solution to challenges in society, but it allows questions to be raised about what is going on in the society in an impactful and meaningful way."
Why Norway?
Erik Poppe has lived in London and Stockholm but has always called Oslo home. He thinks Oslo—a city with an expanding cultural life, replete with numerous unique artists, performers, musicians and authors—is the most relaxing place on Earth. When asked why he hasn't moved to LA after several offers to do major features there, he says:
"There is so much going on in Oslo, so I would have to look for other good excuses for me to live in LA. To be honest, to work there for 3–4 months is okay, but to stay would be a nightmare. I would completely lose myself."
Thanks to 21st-century technology, he can easily communicate and work on features in the U.S. market while based in Oslo. The ease of travelling in and out of Norway also allows for him to still be around his children, with the youngest being 12 years old.
The Human Experience
What's striking about Erik Poppe's work is that he's not just interested in telling a story or a historical event; rather, he's fascinated with capturing the human experience. Viewers can better relate to historical events through the thoughts and feelings of those involved. Erik Poppe's focus on the human element of war allows him to articulate the raw truth of war and how war is infused into the most intimate aspects of life.
Telling stories of historical events from this perspective is extremely time-consuming. For this particular film, Erik Poppe and his team took roughly 20 months to read through thousands and thousands of pages of literature on the different historical descriptions of what occurred during the German invasion of Norway (Operation Weserübung). The team even read diaries of those living in Oslo at the time.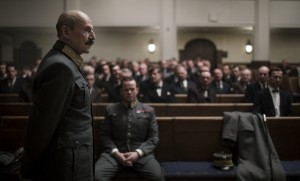 Erik Poppe: "We've been interviewing people who were there or who were working with the King or the Crown Prince. We wanted to figure out not only what happened, but who they were."
Poppe explains that this historical story can be read about in books, but what he and his team wanted to do through their immense research is to understand and portray what the lives of those involved were really like.
The King's Choice will premiere on Friday 23 September (only in Norwegian subtitles).
Text: Lauren Guido / Photos: Agnete Brun, Paradox Film / Official trailer: Paradox Film