Throughout her career as a figure skater, Hollywood actress, and business woman, Sonja Henie (1912–1969) was one of the great 20th century Norwegian icons.
WHAT'S HOT: Henie Onstad Kunstsenter, a publicly acclaimed contemporary art centre. Look at 2016 exhibition calendar here.
Sonja Henie began ice skating at the age of six. Her father encouraged her talent and took her out of school in the fourth grade so that she could focus entirely on figure skating. In 1924, at the young age of twelve, Henie won the first of her five consecutive Norwegian Championships. Throughout the next twelve years, she won three Olympic gold medals, six European Championships and ten straight World Championships.
Hollywood Dreaming
In 1936, Henie moved to Hollywood and signed on with 20th Century Fox. Henie would star in a new film almost every year for the next decade, and produce her own ice show when not working with the film studio. By 1940, she was one of Hollywood's best-paid actors, on par with Clark Gable and Shirley Temple.
Sonja Henie soon became one of the wealthiest women in America. She was known for her glamorous lifestyle, and frequently appeared wearing diamonds and magnificent furs—Hollywood glamour all the way. Parallel with her Hollywood career, Sonja Henie achieved success at her lavish ice shows held in famous venues. Her performances were a triumph, both artistically and financially.
Norwegian Nobility
With her self-made fortune and worldwide fame, few men could match her success and drive. In 1955, Sonja Henie met Niels Onstad, best known for his prowess as shipowner and art collector. They fell in love and got married the following year, securing a place as honorary Norwegian nobles. Soon after, they began developing an art collection together. Onstad's interest in art was influenced by his mother who was a painter. His frequently quoted comment, "I prefer tomorrow's art", was indicative of the focus of his and Henie's art collection.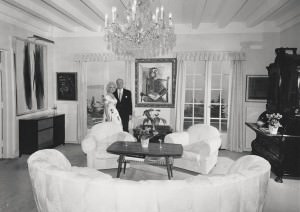 In 1959, the couple decided to make their collection available to the public. Over the course of the following two years, the collection was taken on an exhibition tour through Scandinavia, Germany, England, France, Austria and Switzerland. The tour enjoyed enormous success. The collection continued to increase during this period, and in 1961 the Sonja Henie and Niels Onstad Trusts were created with the establishment of a modern art museum as the primary aim. These trusts generated the largest private art donation in Norwegian history.
After two years of preparation, the centre was finished in 1968, signalling a new type of institution in Norway. The space not only housed the extensive art collection of Henie and Onstad, but also served as a vibrant centre for interdisciplinary activities.
Sonja Henie died of leukaemia one year after the inauguration of the Henie Onstad Kunstsenter. She donated all of her awards and private documentation, which included photographs and films, to the art centre archives. This extensive premium collection consists of nearly 600 individual items exhibited in a dedicated room at the centre.
Today, Henie Onstad Kunstsenter is still one of the leading art performance and exhibition centres in Oslo, with 60,000 visitors a year. A statue in front of the Frogner Stadion—an ice rink near the famous Frogner park—commemorates Sonja Henie's place in history.
Place to visit: Henie Onstad Kunstsenter, a publicly acclaimed contemporary art centre. Look at 2016 exhibition calendar here.
The Oslo Book is grateful to Henie Onstad Kunstsenter for providing photo materials.
Edited by Erik Alstad