In the heart of Oslo, the oldest savings bank in Norway has been transformed into creative hub Sentralen: simultaneously a co-working space, a performance venue, and home to one of the most exciting restaurants in Norway.
WHAT'S HOT: Go where the locals go! Discover several restaurants in Oslo (below) that Martin Eia-Revheim recommends!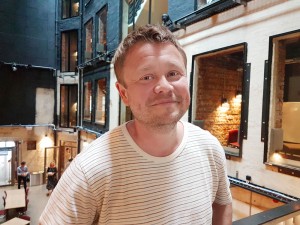 'Kind of Blå'
Born in Kristiansand in 1973, Martin Eia-Revheim is House Manager of Sentralen, Oslo's brand new hub for arts and innovation. Due to his father being a priest, Martin Eia-Revheim travelled around a lot as a child—from Brazil to Denmark—but his heart has always been in Oslo. "I'm extremely fond of Oslo", he says, "as soon as I was 18 I moved to Oslo and I never looked back!" Although Martin was educated as a social worker, he admits that "as with most people working in culture, I'm a failed artist". His dreams of becoming a drummer were overcome by the high standards in Norway: "many drummers in Norway are among the world best so I would never be one of them," he says, listing Paal Nilssen-Love, Audun Kleive, and Jon Christensen among them. A fan of jazz, his all-time favourite composition is Miles Davis' "Kind of Blue". In his early 20s, he was inspired to build a club for the improvised music scene in Norway, after having worked as a journalist for Natt og Dag magazine and for NRK's culture section. Martin and a friend established Blå, which opened in 1998 and is still up and running.
Martin Eia-Revheim: "We sold it to friends that are running Blå as it has always been running, as a cutting edge concert scene and a venue."
"I'm proud that we're one of the longest running clubs in the history of Norway, it's actually been 20 years and they're doing a great job!" Martin continues. Since then, he has worked as head of the Norwegian Radio Symphony, the Kongsberg Jazz Festival, and later Music Information Norway (MIC). In 2011, Martin became the head of Sentralen.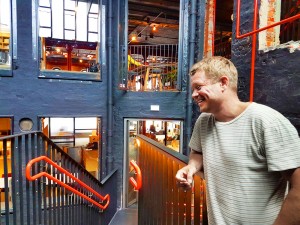 What is Sentralen?

Sentralen is Oslo's new performance venue, and the biggest workshop in the country for cultural producers and social entrepreneurs.
The Sentralen project started in 2007 when Sparebankstiftelsen DNB (the DNB Savings Bank Foundation) bought the buildings of the DNB Bank. Focus groups were interviewed to determine what Oslo needs, and an open meeting space for cultural producers and social innovators alike was the answer.
Martin Eia-Revheim: "We are privileged enough to have quite a lot of money that we are spending for common purposes like philanthropic work. So we own around 10% of DNB, the commercial bank, and we spend the money of the revenue on various fields."
The Sentralen building was originally two linked buildings, Øvre Slottsgate 3 and Tollbugata 30, that have been renovated and merged. In March 2016, 115 years after the bank's opening, Sentralen was ready for take-off.
A sum of its parts:
The restaurant and the people of the co-working space are the beating heart of Sentralen; the building is always buzzing. "Around 350 people divided into more than 100 organisations is a very important part of Sentralen. They work here, and they work from here", Martin explains, "if you are a church music festival or a black metal festival, they sit in the same floor and they work together." The fifth and sixth floor is co-run together with SoCentral, a hub representing social entrepreneurs. The workers "make the place lively, they are Sentralen, they are the identity of Sentralen".
How it works:
Sentralen is already one of Oslo's most vibrant meeting places for concert-goers, foodies, and social innovators.
Martin Eia-Revheim: "We have 8 venues, we have 12 meeting rooms, and we have a restaurant and a café."
Sentralen plays host to the organisations and to the public, framing cultural experiences and providing great networking opportunities. "It's a myth that it has value just bringing people together, you have to also do something more active as a host", says Martin, "it's like being the host of a party, we have to make sure that guests have coffee in their cups!" he laughs. "What is important is to secure these organisations' stable work conditions," he says, providing a long-term workspace for these ideas and cultural events to flourish. The cultural organisations at Sentralen—festivals and theatre and dance companies—all produce content for an audience.
Martin Eia-Revheim: "Since we opened on the 1st of March we have had 450 events in Sentralen in 3 months. We have now passed 2000 bookings in the future as well, so there are plans way into 2017".
Events and Activities
Sentralen hosts events and activities for the broader public to engage in—everything from children's art workshops, dance camps, book launches, and fashion runways to live concerts from Oslo Philharmonic or Jaga Jazzist. In July, check out Madam Pysj's (Madam Pyjamas) theatrical take on George Lucas' space opera franchise in 1 hour: Star Wårs (100kr for children, 150kr for adults).
Sentralen Restaurant
Sentralen Restaurant is an exciting dining venue with an informal atmosphere, serving food made from quality Norwegian ingredients and continental flavours. The menu changes seasonally, and includes rustic sharing platters. "The restaurant has been fully booked since the day we opened, and it says a lot about the quality of what they serve." The restaurant does make an effort to allow time for drop-in guests.
Martin Eia-Revheim: "Of course it helps to have the 4 best chefs in Norway running this place, because they have an incredible level of what they do. We serve from the smallest piece of bread at 30kr, and a piece of cake or even a hot dog in parties or a soup, up to a 10-course tasting menu."
These four chefs make up cook collective LAVA, with a high focus on sustainability. They are Even Ramsvik from Ylajali, who had a Michelin star before joining Sentralen, Tom Victor Gausdal from the Strand in Bærum, Anders Braathen from Smalhans and Stian Floer from Hitchhiker.
Sentralen Restauranten, opening hours:
Monday to Saturday / 11.00 – 24.00 / (kitchen closing at 22.00). During 11th–31st July the restaurant will be closed.
The Cafeteria – Kafeteriaen
Handverk, Sentralen's own bakery, serves as a buzzing cafeteria with a great soundtrack. Dishing up hearty sandwiches for lunch and homemade sourdough pizza for dinner, it's open until midnight every day except Sundays. Behind the café is Sentralen's light and airy Atrium, complete with beer bar.
Sentralen Cafeteria Kafeteriaen is open on weekdays 07.30-24.00 (pizza 15.00-21.30). Saturday 10.00-24.00 (pizza 12.00-21.30). Sunday 11.00-19.00 (pizza 12.00-18.30).
The Gold Bar
Sentralen also boasts The Gold Bar (Gullbaren), a unique vintage-style bar that transports you back to the 1800s, with painted tributes to the old bank directors on the wall and items from the bank's history decorating the interior. Sentralen's chefs along with coffee and cocktail bar Fuglen designed a great cocktail menu. They also host pop-up bars—stay updated on their Facebook page!
The Design
Sentralen's logo is an iconic nod to the old typography of the bank. "It's rooted in history", Martin says, "if you're 70 years old and you've been working with the bank your whole life you actually get suddenly sentimental." The logo is designed by Metric System, winners of the logo competition, and the architecture competition winners were KIMA Arkitektur and Atelier Oslo. "I think both the architects and the designers have been working quite similarly", Martin remarks, "they've been both very interested in the history of the buildings and the potential of what is actually already there."
Sentralen—A House of Art
Six Norwegian artists were challenged to divide up Sentralen up between them and decorate it, and you can see the results throughout the building. The Ground Floor contains the Marble Hall, and the restaurant and cafeteria. Hanging above the bar in the marble hall, Camilla Løw produced Oscillations, three lightning bolt-shaped installations in neon tubes that provide a stark contrast to the hall's baroque architecture. In the restaurant and café space, Are Mokkelbost transformed the two large windows into stunningly colourful glass collages. The folded motifs constantly shift as the light plays through the windows.
The ground floor also has a Winter Garden, where you can enjoy a drink and view Jan Christensen and Marius Dahl's installation, The Icarus Complex. Initially, the installation looks connected to the staircase, but it gradually detaches itself from the handrail as it rises upwards. "The shortest path to the goal of a creative process is not necessarily a straight line," say Christensen and Dahl.
In the foyer, Hanne Friis was inspired by the building's banking history as a store of wealth, and its current state as a store of culture, to create a growing gold sculpture issuing out of the walls that raises questions of value. On the First Floor you can explore the old bank vault, now converted into a performance venue!
In The Gallery on the third floor, Vanessa Baird's mural covers an entire wall. Approximately 10 metres long, the mural depicts the sea with people and life belts floating in the water, creating powerful associations with the tragedy of those risking their lives in the Mediterranean as they flee from conflict. The work incorporates these lines from a poem by W.H. Auden:
The stars are not wanted
put out every one,
Pack up the moon and,
dismantle the sun,
pour away the ocean and
sweep up the wood
For nothing now can ever come to
any good.
Sentralen: A Unique Formula?
In terms of the project's concept, Martin has not seen its like anywhere in Europe. While other private foundations often support well-established institutions, Sentralen nurtures organisations from the grassroots as well as collaborating with larger institutions. "We have worked to create great venues…to build a great co-working space inspired by betahaus in Berlin, and a great restaurant based on who's doing the best work. But finding a place that combines these three elements I have not found," notes Martin. "If there are, I would like to meet them and exchange ideas!"
Address: Øvre Slottsgate 3 AS, Postboks 183 Sentrum 0154 Oslo
Martin Eia-Revheim recommends his favourite restaurants in Oslo:
"Punjab Tandoori in Grønland, one of the places I've been eating in for 25 years!… Jan Vardøen is a near friend of mine so we go to his places like Villa Paradiso", Martin says. "Nevzat studied social work when I was studying", he adds, and recommends his restaurants such as Arakataka and Olympen. "Handverk at Mathallen is the best bakery in the city, Supreme Roastworks is probably the best coffee in the city, so that's something we love to use. I really love the hotel lobby of Bristol, so that's a place I go often."
Text: Georgina Berry / Photos: Dina Johnsen