Experience the best beaches of Oslo, stunning sunsets, calming waters, and active adventures such as swimming, beach sports, and a lot more. Enjoy Scandinavian summers to the fullest at Oslo's top 6 unforgettable beaches.
This beach lies at the south of Bygdøy peninsula, just 5km away from the city centre. It offers easy access to the pure waters of the Oslo fjord. Its soft sands and shallow waters are perfect for days out with family or a get-together with friends. The beach also has a naturist area, separated by a small bay.
Special highlights: Enjoy swimming, cycling, or simply strolling along the beach. You'll find a lot more facilities: a community BBQ grill, a volleyball court, and kiosks. There are toilets, and bike racks are provided.
How to get there? Just hop on bus 30 from central Oslo.
Where to eat? Hukodden restaurant is a great place to relax and enjoy the longest sunset in Oslo.

This family-friendly beach is easily accessible on the eastern side of the Oslo fjord. The low sloping bay is perfect for children to paddle in. The beach complex is built in the Modernist style of the 1930s, with interiors inspired by functionalism and designed by architects Ole Lind Schistad and Eyvind Moestue.
Special highlights: Test your diving skills on the much-photographed diving tower! You'll also find kiosks, access facilities, parking spaces, and showers.
How to get there? Board the 87 bus to get there in just 25 min from Oslo central station.
Where to eat? Ingierstrand Bad Restaurant has a variety of dishes on offer—from pulled pork, cod fillets, to caramel brownie with sorbet.
This popular island is the main among several small islands off the Oslo harbour. Closest to the city centre, it's a small lush green island in the Oslo fjord with beaches, trees and beautiful flowers. It also has a nature reserve where animals, trees, and plants are protected.
Special highlights: On the south-eastern tip of the island, you can see a beautiful demonstration of the transition between two periods of the earth's history. On the tip, you can see a border between the sediments that shows a prominent difference between the shallow water's light grey sandstone and brown deep-water mudstone.
How to get there? Take the ferry from City Hall Pier 4, where lines B1/B2/B3 take you straight to the destination within minutes. The ferries also go to other islands near Hovedøya. A guest harbour on the east of the beach offers you all the facilities you need.
Where to eat? Revierhavnen Kro, Hovedøya's restaurant, has a variety of seafood dishes to offer, such as creamed fish soup and catfish. If you only need a snack, head to the Klosterkroa café for traditional Norwegian waffles!
Looking for lazy days of sunbathing and swimming? Tjuvholmen beach is the perfect place to be. It's right near the heart of Oslo, south of Aker Brygge. This is a child-friendly beach, so your children can play while you sunbathe.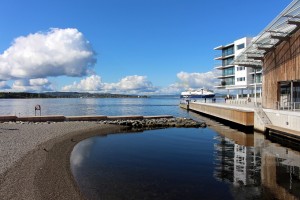 Special highlights: Tjuvholmen has a stunning watchtower with a glass elevator at 54-metres high. You can see the entire city from this vantage point. From here, you can also explore the Astrup Fearnley Museum and other outdoor artworks. You can even enjoy a guided tour of the area.
How to get there? Bus 54 towards Bryggetorget drops you right nearby. Or, you can take the T-Bane to the National Theatre and stroll down towards the beach.
Where to eat? This area has a variety of restaurants—from exclusive dining experiences to cafes. Tjuvholmen is an upscale area where you can have your meals in style. Try the Japanese fusion at Hanami for a luxury meal, or the quality seafood at Lofoten Fiskerestaurant just 10 minutes from the beach.
Experience the crystal clear waters of Hvalstrand beach, lapping onto soft sandy beaches and green grass. Marine life, cool waters and delicious food attract tourists and locals alike to this beach. If you wish to take a deep dive into the waters, it has a popular diving tower too.
Special highlights: Don't miss out on Hvalstrand Festival on 19–20 August this year! Rock and roll with top-notch artists like Lissie, Nico & Vinz, Madcon, Raga Rockers, and more. Enjoy the 'beach party' with your family on Saturday 20th.
How to get there? Hop on bus 251 from Oslo centre (Hammersborggata) straight to Hvalstrand stop, with a 9-minute walk to the beach.
Where to eat? With a focus on local produce, Hvalstrand Bad Restaurant offers fresh seafood dishes like oysters and tartar of sea trout.
With Oslo's largest seawater pool, this sandy beach area is perfect for a summer swim! Situated at the tip of Sørenga in buzzing downtown Oslo, this lido has everything you need to enjoy a summer day—sunbathe on the pier, chill in the recreation area, or try the diving tower. The bathing complex is designed with separate bathing areas, including a pool made accessible for people with disabilities, and a wheelchair ramp.
How to get there? Come to Oslo central station and take a 10 min walk to Sørenga sjøbad.
Where to eat? Enjoy great Italian food at Cargo Restaurant.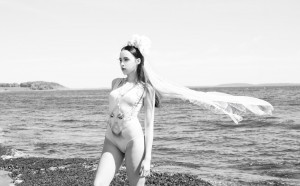 Photos: Sedef Husevaag / Text: Daisy Kumar / Model Agency: Ambition Models / Model: Gabija