Take a break from day-to-day life and relive the olden times at Bergvang Gård.
It is a privilege to, at times, be able to step away from one's usual life and enjoy the simpler things, which is possible at Bergvang farm. This farm is a type of back to basics, if you will. A quaint but large farm that started up in the 1930s, it is now open to the public to come and enjoy the lands, and partake in the various activities and classes offered there for adults and youngsters alike. A visit to the farm provides opportunities to learn a new skill, take a break from the casualness of everyday activities, and gain confidence in oneself through knowing more about a new skill.
Sven-Erik Gullbekk (above) and Eileen Strøm (front photo), the owners of Bergvang Gård, invite you to visit them and spend a lovely day there.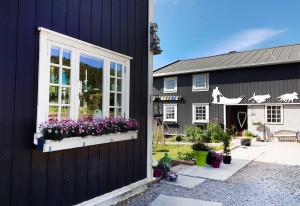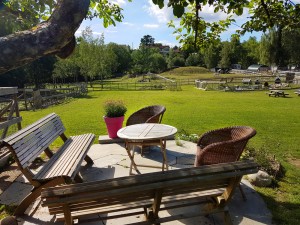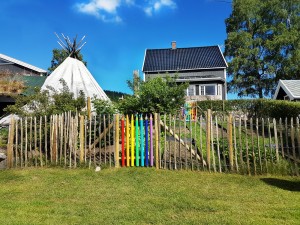 Located in Asker, the farm is accessible from 11:00 to 16:00 on the weekend, with a number of classes, courses, and activities planned throughout the year. Entrance is 100kr for adults, and 50kr for children. Be it something as simple as horse riding, making a special day even more so by having a birthday here, or renting the area for a company event, the farm can accommodate itself to your needs. Of course, one can also simply come to visit the scenic lands and play with the animals. They have ponies, huskies, lamas, peacocks, cats, sheep and many more animals, all of whom are very tame and friendly. You can even feed them, if you'd like. And if your time on the prairie doesn't last long enough for your tastes, you can buy some of the farm's products, like their fresh eggs and milk, or maybe a sheepskin piece, to take home and hold on to the feeling of the great outdoors a wee bit longer.
 Sedef Husevaag (the photographer) and Karoline (the model) had much fun creating this photo-story for TheOsloBook. Enjoy!
For more information take a look at their website, bergvang.no, to check their calendar and prices for upcoming events and to plan out your visit. Come with your kids—they will be thrilled!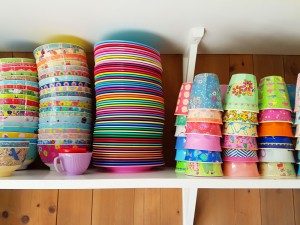 Bergvang Gård: call the owners and book a tour, or just come on Saturday or Sunday and cuddle with the animals from 11.00 to 16.00!
Eileen Strøm , tel. +4741915577 , eileen@bergvang.no
Sven-Erik Gullbekk, tel.+4793830483, sven-erik@bergvang.no
Address: Bergvangveien 12A, 1384 Asker
Text: Akif Rashid / Photos of Karoline: Sedef Husevaag , Model: Karoline Haugstoga, Team Models / The rest of the photos: Dina Johnsen