Established in 1785, the Oslo Public Library (Deichmanske bibliotek) is still evolving—a futuristic new library is coming to Oslo in 2020. Kristin Danielsen, the library's director since 2013 who has just been appointed director of the Norwegian Arts Council, explains why libraries are more relevant than ever, and reveals the exciting plans for Oslo's future library.
Footloose
Born in 1972, Kristin Danielsen began dancing at 15 after being inspired by films like Footloose and was accepted at the Norwegian Ballet Academy at 18, later attending New York's Broadway Dance Centre. In 1998, she decided to pursue something broader and studied Arts Management at City University in London where she met her Norwegian husband. A book by her favourite author brought them together—her now husband approached her at a garden party and gave her 'A Sudden Liberating Thought' by Kjell Askildsen: "sold!" she laughs.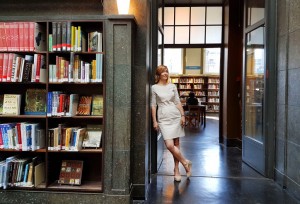 She moved back to Norway and managed Black Box Theatre. In 2001, she established her own agency, DanielsenKroepelien Arts Management (DCAM), with Agnes Kroepelien. "We created Kulturnatt, which is a very classic Oslo thing and I'm very proud of that." In 2006, she took over as director of NyMusikk, before promoting Norwegian music as director of MIC. After merging MIC with another organisation into Music Norway in 2013, she became director of the Oslo Public Library. On June 10th, it has been announced that she will be the new director of the Norwegian Arts Council!
The Oslo Public Library—Don't Judge It by Its Cover
The Oslo Public library has 19 branches in Oslo, including the main building and the latest kids-only library, Biblo Tøyen! But don't judge it by its cover: as well as books, the library offers free courses—there are weekly language cafes where you can learn Norwegian and even go for a trip ("på tur") in the forest as you practise, and cartooning classes at Serieteket, which specialises in comics.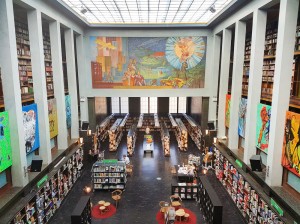 The main library has a People's Workshop which makes current technology freely available to the people of Oslo. Here you can find children making jewellery with 3-D printers, Raspberry Pis, and more. The main library has a great atmosphere. In the music and film section, you can hear the sounds of jazz on the speakers as people digitise their music.
2.3 million people visit the library every year: "Whatever they bring is their own personal project. It could be the next Ph.D., or it could be 'I'd like to knit today and listen to someone reading because my own personal project is to relax'."
Kristin Danielsen: "We need libraries more than ever."
Historically, libraries have had a powerful position in society as gatekeepers of knowledge. Built in 1933, the main library architecturally resembles a kind of temple filled with stairs. This effectively "creates a distance between me as a library user, and this 'holy library' at the other end. It's as if you have to sort of walk up the stairs, meeting Saint Peter at the other end", Kristin jokes.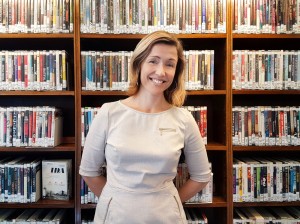 Where once libraries held the knowledge of the people, information is now everywhere. "That's what happened with the internet, it sort of totally democratised information. Which is fantastic, but it's just extremely challenging for us because we've lost our position on the one hand, but on the other hand you need us more than ever." These days, the role of a library is to be a curator for this proliferation of information, Kristin believes. Librarians must use their expertise to organise and present information to users.
"We're Your Library": A Social Mission
Public libraries remain socially important and trusted institutions in Norway. In a recent citizen survey that asked the people of Norway what public and social services they are happiest with, firemen came top, followed by librarians.
Kristin Danielsen: "Libraries are a common ground for people all over the world," Kristin says, "we don't have a political agenda, you don't have to pay anything…we're your library".
Unlike bookstores and many media outlets, libraries have no commercial motivation to "push" certain authors or information above others. Libraries are a relatively neutral space in which to discover new things. Because of this, "the library is even more relevant today than when it started. I do strongly believe in the social mission of a library, it's about spreading information and knowledge."
Coming in 2020: Oslo's Futuristic Library
Oslo is building a new public library in Bjørvika, which is set to be one of the most innovative and modern libraries in Europe. Due in 2020, it will be situated near the Opera House and the new Munch Museum. "Libraries need to be where people are," Kristin says, "and the most central space in Oslo for probably the next hundred years is going to be Bjørvika." With an estimated 50,000 people living and working there, it will be the most central location in all of Norway.
THE NEW DEICHMAN MAIN LIBRARY BY LUNDHAGEM ARCHITECTS AND ATELIER OSLO.
Access points in the east, west and south of the building are marked in the façade to welcome visitors from all sides of Oslo. Dazzlingly light and spacious, the building is almost entirely transparent with windows, diagonal shafts of light connecting the indoor space with the streets outside. "In Norway we say that it should be 'low barrier', I say 'no barrier'", says Kristin.
Literature, gaming zones, and workshops
At six levels—including an underground floor, which will be a hub of performances and events with a cinema to boot—the rooms will each provide a different experience, from literature, to workshops, to gaming zones. With help from an architectural psychologist, the indoor spaces have each been designed to fulfil a purpose customised to the public's needs. The thing about libraries is "everybody wants to hide", Kristin says, so there will be smaller nooks and crannies to settle into and read or people-watch: "It's like a theatre of life, you just observe". As well as providing peaceful retreats, the library will also have buzzing meeting points. The ground floor will be the social centre of the space, a marketplace area where you can meet new people or even have stimulating debates.
Fiction, non-fiction, multilingual texts, music, film: the library is usually built on strict departments, but these categories are about to be shaken up.
"Wherever you go in the building, you should be tempted into some sort of a village where there's something relevant for you."
It could be any theme: travel, art, gardening, or coding.
The 'Future Library' Project—A Time Capsule

In the new public library, there will be a room specially designed to host the secret manuscripts of the Future Library—a 100-year artwork for the city of Oslo. Commissioned by Bjørvika Utvikling, artist Katie Paterson created the project's concept.
"Future Library is probably one of the most beautiful projects that we're involved with," says Kristin, "we're sending this time capsule into the future". Every year, a writer will contribute a text that won't be read by anyone until 2114. Margaret Atwood and David Mitchell are the first two writers to deliver manuscripts, and 1000 trees have been planted in Nordmarka, a forest just outside Oslo, which will supply paper for the books to be printed. "What I do like about Future Library is that it's optimistic because it boldly states that there will be a future," Kristin continues.
Kristin Danielsen: "We've been calling our own building the 'future library', so when we open in 2020 we're already pregnant with another Future Library that's going to grow one text at a time, it's really very beautiful."
Innovation in a Post-Digital Era
It's an interesting time for libraries: "If we don't change we'll disappear." Technology is here to stay, yet Kristin says it's easy to over-focus on technology for its own sake and forget that it's a tool. "We're in a post-digital age", she says, "where we have to focus on content and content only". Technology's role in the new library will be to facilitate access to content, whether it be through navigational apps or digital expositions of information.
Kristin Danielsen: "It's very simple, we're still about storytelling"
The new library will aim to map your needs and mix that with the librarians' expertise. As well as customising content, Kristin thinks the library should also be a place where you can encounter ideas and viewpoints you wouldn't usually seek out. Where many websites analyse you and feed you content that only reflects your interests, Kristin thinks libraries should help to "disrupt these algorithms": "there are so many other things that people just don't know about, and we should make them aware of it."
"We need to open the books"
The focus of libraries used to be about their collections and people would simply choose books. The new concept is to curate the content and make it relevant to you: "we need to open the books". How? The library aims to create interesting learning activities, literary readings and festivals of the spoken word. They'll also create expositions on topics where you can choose to go in as much depth as you like. "Instead of just showing them the back of a book, we can create an exposition, on for instance Syria, or any kind of theme that's extremely relevant. Not because we want to be a news station, someone else is going to take care of that, but news today is feeds—we want to give you the whole story."
Focused on lifelong learning, the library will provide courses and activities where people can discover a side to themselves they may not know they had: "that's exactly what libraries are about—be the best version of yourself!"
Kristin Danielsen's Favourite Oslo Spots
Kristin enjoys Bacchus, a newly opened restaurant in the backyard of the church 'Oslo Domkirke'. "Also I love French pastries and L'ardoise in Thereses gate is small, cosy and has great treats."
She recommends the Chinese dumplings at Taste of China in Torggata.
"This street has been developed to be a hipster street over the last years, but this Chinese spot has been around for ages. It is not known for great design but the food is good, the service friendly and you don't have to pay out of your nose to eat. What not to like?"
"My favourite part of Oslo is the fact that it is a city with a lot to offer, but small enough to get around by bike. This morning I went to work on my bike from Korsvoll and I have this great route along the Aker river. All cities are at their best in the early mornings, and I recommend tourists to rent bikes and go from Frysja, where the river starts, all the way down to Sørenga for a swim."
Text: Georgina Berry / Photos: Dina Johnsen