HURRY UP! On Saturday, 11th June the event over 90,000 Norwegians have been waiting for finally arrives—The chance to slip 'n' slide down Norway's longest water slide in the middle of Oslo.
The 300 metre long and 5.5. metre wide slide will go down Treschows street which runs parallel to the Aker river in the Sagene neighbourhood of Oslo. At the top of the street, you can see the beautiful Oslo skyline and fjord.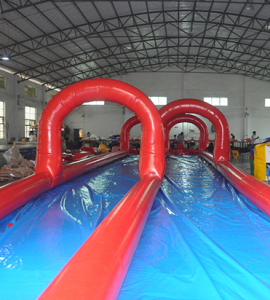 www.vannsklie.com: From Dreams to Reality
The water slide is the brainchild of Erik Holm. Last July he created a Facebook group for the event with a photoshopped image of a slide running through Oslo. The event went viral, and in 3 days the page received over 60,000 likes from people wanting to slide from the Royal Palace down Karl Johan's street. However, that was only a dream and no actual event was planned at the time. Fortunately, due to the power of social media and support of the masses, Erik's dream for Oslo will come true this weekend.
Tickets: Single ride- 149 NOK. 3 rides- 349 NOK. Child- 100 NOK. All tickets include inner tube rental.
What: Norway's Longest Water Slide
Where: Treschows gate, 0470 Oslo
When: 11 June 2016
Time: Kids only ages 7 to 10 from 10AM to 11AM. Group 1 from 11AM to 3PM. Group 2 from 3PM to 7PM.
Text by Joell Serrano