Øivind Johansen, a Norwegian art collector, travels to Soviet Russia and is inspired to create a collection of interpretive lithographs based on plays and short stories by Anton Chekhov: The story of the Chekhov Project.
Go where the locals go:

 

Grefsenkollen

,

 a restaurant with a spectacular view. Scroll down to see images.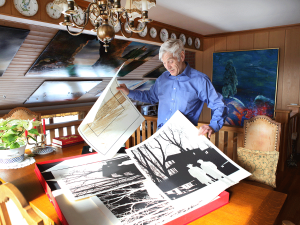 Øivind Johansen and his wife Kari first travelled to Russia in 1970. Spending only 4–5 days in Moscow, Øivind was profoundly moved by the cultural riches experienced during his brief stay, from the breathtaking performances at the Bolshoi to the magnificent tsarist regalia housed in the Kremlin Armory. He was also struck by the sombre mood of the country, the streets accented with depressed faces that rarely smiled and avoided eye contact.
The trip occurred during an era of stagnation at a time when it seemed the Soviet tenure would last forever. Like many others, the change Johansen hoped for would come a decade later when Mikhail Gorbachev would open up Russia to the world. And, like much of the world, Øivind was deeply affected by those developments and wanted to be part of them. With a long-standing fascination of Russian culture and having successfully published art books on Henrik Ibsen and August Strindberg, he felt that now would be the perfect time to add a 'Russian book' to his publishing enterprise.
"The book I envisioned would explore the reception and contemporary relevance of a major writer, by presenting him through the eyes of one or more artists. The subject of the new book would be Anton Chekhov", Johansen said.
Having selected a Russian author, he now needed to choose the artists who would create interpretive lithographs based on the writings. With this mission in mind, he made his second trip to Russia in 1988.
Øivind Johansen was guided through Moscow and Leningrad by two men with extraordinary knowledge of the alternative art scenes. In a span of two weeks, he met with over 20 artists. "Beyond liking an artist's work and personality, I looked for the following in my encounters with these artists: that their work had demonstrated importance, that an artist was associated with the unofficial art movement, a genuine interest in literature, and that they had a story to tell. The resulting lithographs wouldn't be so much illustrations of Chekhov short stories and plays, as a more profound response to his literature."
After his trip, Øivind Johansen selected three "Chekhov artist-interpreters" to be part of the project: Igor Makarevich, Oleg Vassiliev, and Yuri Vaschenko. "Individually and collectively, the three seemed ideally suited to an undertaking that came to be known simply as 'The Chekhov Project'", he said. Igor Makarevich was a leading exponent of Moscow conceptualism who deconstructed myths of Soviet culture and the Russian avant-garde. Oleg Vassiliev, primarily a painter, produced works characterised by brilliant luminescence and geometric structure. Yuri Vaschenko, another gifted underground artist, worked mainly as a book illustrator, creating stunning illustrations of works by Lewis Carroll. Johansen felt confident that the three men—a diverse representation of progressive creative trends in Gorbachev's Russia—would offer an intriguing range of perspectives on Chekhovian themes.
To realise "The Chekhov Project", the artists made two trips to Paris under Johansen's patronage. The first trip in 1989 lasted six months and involved just Yuri Vaschenko and Igor Makarevich. At the time, Oleg was starting to gain an artistic foothold in the West and had obligations that prevented him from travelling to Paris on Johansen's sponsorship. Igor and Yuri spent roughly six months soaking in the artistic riches of Paris while learning the fundamentals of lithography with the renowned master printer Yann Samson.
It was on that trip that Igor and Yuri decided on the Chekhov works they'd interpret in their lithographs, two of the writer's beloved and best-known plays—The Seagull (1895) and The Cherry Orchard (1904), respectively. Oleg, for his part, went on to choose one of Chekhov's most famous short stories, "The House with an Attic" (1896).
Igor and Yuri returned to Paris the following year, this time accompanied by Oleg. The three artists and their families lived in the French capital from the summer of 1990 through the summer of 1991, residing in the aptly named "Maison Rouge" or Red House—a stately mansion located in Boissy-Saint-Léger, a southeastern suburb of Paris. At the time of their stay, the estate served as the hub of the Russian artistic community in Paris and was frequented by major Russian artists, writers, and critics.
Under the guidance of a world-renowned lithography studio—the Paris-based Michael Woolworth Atelier—and equipped with the necessary printmaking tools, the three soon realised their artistic visions. The result was a collection of extraordinary lithographic works related to Chekhov's literature now known as "The Chekhov Project".
"I am grateful to them, both for these works they created in Paris, as well as for the friendships that came out of this experience.  I will never forget Igor Vassiliev's words: "In Paris we met many friends and acquaintances that we never expected to see again in our lifetime." But they did and Johansen maintains a friendship with the artists to this day. "When I read his words for the first time, I realised that I had done something good", he finishes with a smile.
The works of Igor Makarevich, Yuri Vassiliev and Oleg Vaschenko, part of the Chekhov Project
Øivind Johansen lives with his wife Kari in a beautiful nostalgic house in Grefsen, a Northern area of Oslo. They enjoy an amazing view overlooking the Oslo Fjord and are amused by the wild deer that occasionally come by the house to feed on the carrots Kari has left for them.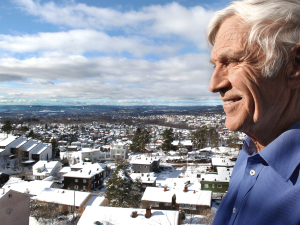 Summer view from

Grefsenkollen

restaurant
#restaurants, #Grefsen
Edited by Layal Hasrouni / Photos by Dina Johnsen