Jarle Roheim Håkonsen is a familiar face to every Norwegian. He is a TV news
presenter
and a journalist working for the evening program
me
Dagsrevyen

 (The Daily Review) in NRK, the Norwegian Broadcast Corporation. On 22 July, 2011, the day of the twin terror attacks in Norway, Jarle was the presenter live on the air shortly after news of the bomb blast reached NRK. He talks about that day.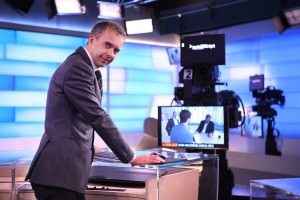 Norwegian Broadcasting Corporation (NRK) is a publicly owned, licence financed broadcaster. Today, NRK has TV and radio channels, the internet platform nrk.no and a major weather forecast on yr.no. 9 out of 10 people in Norway use this company's services every day.
The most important part of the job
Jarle Roheim Håkonsen was educated in political science and has been working for NRK for 20 years, covering both domestic and international news. He has also been working as a correspondent in Western Europe for 4 years. He finds the pedagogical side of working in the news to be an interesting and valuable part of the job. It is important, he says, to get the news across in the most accessible way, and this contributes to the knowledge of society as a whole—"democracy is enhanced".
Jarle Roheim Håkonsen: "Being a political scientist, I could have worked for a smaller medium going more in-depth, but the big challenge is to make the broad audience understand complex issues happening in the society."
NRK is quality and tradition, openness and broadness. Most Norwegian households are subscribed for NRK TV, Radio and online channels. The goal is to reach out to the majority, deliver stories about Norway that unite everyone, and provide a product that viewers truly enjoy. "We tend to focus on what gathers the people around the TV, radio or laptop, and big stories that tell something about Norway. Each summer for instance, we have this huge, very successful boat trip that connects Norway from the South to the North (Sommerbåten), a boat that goes live broadcasting all the way up. Which is in the core of what a TV station should do, to gather everybody around this country", Jarle continues.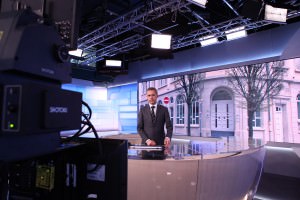 22 July, 2011—A national tragedy
On 22 July, 2011, the day of the twin terror attacks in Norway, Jarle was the presenter live on the air shortly after news of the bomb blast reached NRK.
"I was on air, half an hour after the bomb, and I was on air when [Breivik] went to Utøya, and so I was anchoring at the time. I was getting messages in my ear that he was going to Utøya, and that was the place that I visited many summers as a young boy. So I felt it was all very personal, but of course we understood that this was history in the making, that afternoon."
This is totally insane
Jarle Roheim Håkonsen described his initial shock at receiving the news: "There's a small clip from me (above) when I get the message that the Prime Minister's office is completely ruined, and you see my face as I get the message and then I come with an exclamation saying, "dette er helt vanvittig" ("this is totally insane"), and that is two minutes before we go on air…" He concludes that it was a very emotional experience, for everyone.
On that day they all at NRK were under enormous stress, but as Jarle said, everyone managed to keep going. "I felt that all the stress that we all felt became quietness inside, because when it's so stormy, you know, most people react with coolness." This video tells the story of how NRK journalists managed to deal with the emotional impact of the tragic events as they unfolded, and their tireless efforts to handle the workload of the ongoing broadcast. Everyone pulled together, trying to stay alert to updates and get the news out to the broader public as soon as possible.
A wine and food enthusiast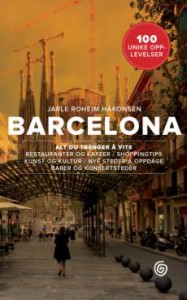 Jarle Roheim Håkonsen is particularly passionate about Spanish culture and speaks perfect Spanish. This led him to write about travel in Barcelona. He has recently published Barcelona: 100 Unique Experiences, which offers a personal guide to the Catalan capital—covering its rich history, cultural attractions, and unforgettable culinary experiences. If you are a Spanish food lover, Jarle recommends tapas restaurant Delicatessen in Oslo. But "for the best experiences, it's of course to go North and get the fish and seafood directly from the boats".
Next up, Nina Owing, offers you a glimpse of the NRK TV studios.
Video: courtesy of NRK / Photos by Dina Johnsen / Text by Georgina Berry