The Tjuvholmen and Aker Brygge areas are the result of the city harbour development that started in 2000. It used to be a port, but today it is an area with modern and clean-cut architecture, with shops, trendy restaurants, expensive apartments and office spaces, a contemporary art museum, and the most luxurious boutique hotel in the country—The Thief hotel. 
WHAT'S HOT: If you want to experience the vibes of upscale Oslo, book a table at Hanami. Exquisite Japanese cuisine and the cutest waters in town.
Aker Brygge and Tjuvholmen
Nowadays, time is as important as money, and no one wants to waste either. So if you're wondering how to spend both, a popular suggestion is to take a trip to the port-side of Oslo city. Aker Brygge and Tjuvholmen are the places to experience modern Oslo.
Astrup Fearnley Museum and Sculpture Park in Tjuvholmen
Among the many museums in the city, this side has Astrup Fearnley Museum and a Sculpture Park. Both were designed by renowned architect Renzo Piano. Immersive and sleek, they are located in Tjuvholmen, which was once known as the Isle of Thieves. But, rest assured, the only theft here is stealing your focus from mundane life to impressive artworks by Damien Hirst and Andreas Gursky as part of the collection of Astrup Fearnley Museum—something anyone should experience once in a while.

The Thief Hotel
The Thief hotel is a hop, skip and jump from the museum, and located on top of the fjord. It is a favourite child of hotel tycoon and extravagant billionaire, Petter Stordalen. Stordalen owns Scandinavia's largest hotel chain, Nordic Choice Hotels (170 hotels), and The Thief is a gem in his collection. The Thief has received a number of awards since its launch in January 2013, and was part of The Hot List 2013 (Condé Nast Traveller). The hotel is located on Tjuvholmen (Thief Island), a place where the city's criminals were once executed.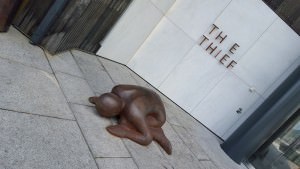 Aker Brygge
A 15-minute walk from Jernbanetorget (Oslo Central Station) will bring you to Aker Brygge. As you walk along it, to one side, you'll be met with cafés, museums, restaurants of all ranges and foods, and an abundance of activities to get involved in.
While it is common to see a Norwegian in workout clothes or a casual jumper, the patrons of Aker Brygge are often suited and booted up, having put on their best to strut through the port. Be it nature or the people, the sights are enjoyable.

Aker Brygge is a great place to spend your Sunday afternoon. Get comfortable on one of these benches and meditate on the Oslo fjord.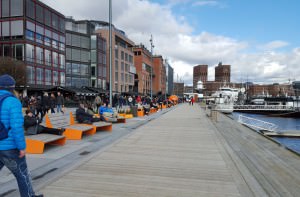 On the other side, there is the magnificent view of Oslo Fjord, the waves gently rocking against the piers. While you might expect the many boats and ships there to obscure the view, they actually enhance it. Aker Brygge has many ferries that travel frequently throughout the day to the series of islands present within the city itself.
It's a considerable contrast to a few years prior, where the port was nothing more than a stop for ships. Now, those large vessels have been traded in for elegant, white ferries and welcoming plazas. This part of the city has a classy vibe to it.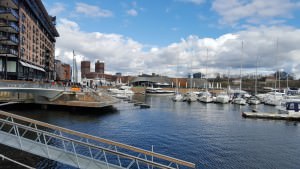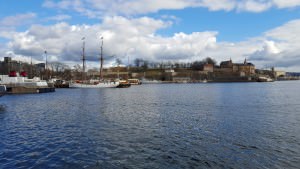 Text by Akif Rashid / Photos: Dina Johnsen