Norway's Constitution Day programme includes the Children's Parade and Police Orchestra concert. Participate in the events and meet the Norwegian Royal Family!
17 May is Norway's National Day. Norway's Constitution was signed on 17 May, 1814 in a small town Eidsvol. Despite the fact that Norway didn't get its full independence (from Sweden) until 1905, this date remains Norway's National Day. It is also a national holiday.
The Children's Parade is the central event of the celebrations. The parade of 60,000 children from around 100 schools is always greeted by the royal family from the balcony of the Royal Palace. Oslo center is full of people on that day, many of them are dressed up in national costumes called "bunad".
The official Constitution Day programme in Oslo for 2016
7 AM–8 AM: Choir music outside the churches Fossum (Stovner Senter 12), Paulus (Helgesensgate 64, below) and Sinsen (Lørenveien 13).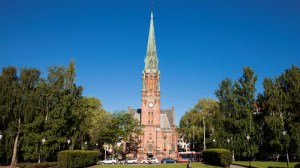 8 AM–10.30 AM: Wreathing ceremonies at several locations, including Akershus Fortress, Vår Frelsers Gravlund (cemetery), Gamlebyen kirkegård (cemetery), Eidsvolls plass, 7. juni-plassen, in Slottsparken (Royal Palace Park), Stensparken and Torshovparken, and by Gamle Aker Church and the Norwegian Maritime Museum.
9 AM: Celebratory church service in Akershus Castle Church.
9.15 AM: Oslo Police Orchestra performs and marches from Egertorget square to the Royal Palace.
9.15 AM-10.00 AM: Traditional folk dancing starts from Egertorget square and moving to the Royal Palace.
10 AM–1.30 PM: The Children's Parade starts at Festningsplassen and Youngstorget, enters the main street Karl Johans gate at Stortorvet by Oslo Cathedral, passes the Parliament and the Royal Palace (picture below) and ends up at the City Hall square (Rådhusplassen 1,).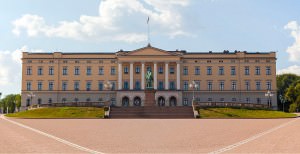 12 NOON: Salute from Akershus Fortress and ringing from Akershus Castle (below) with the Liberty Bell.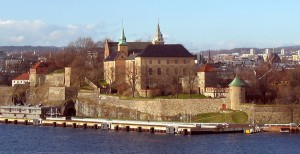 1 PM: Corpus Juris plays at University Square.
1 PM: Sagene Janissary performs in Borggården (on the city side of City Hall).
2 PM: Concert with the Norwegian Student Choral Society at University Square.
4 PM: 17 May concert with Oslo Symphony Ocrhestra at Akershus fortress.
6.14 PM–8.14 PM: Cobblestones Ball at University Square.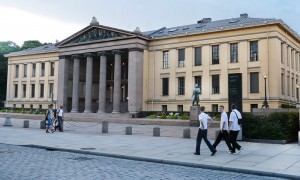 Photos: Dina Johnsen, Andreas Haldorsen, G.Lanting