Nina Owing: A highly respected media professional with an extensive background in journalism. She is showing you today the life inside of the main TV channel of NRK, the biggest media house in Norway.
Norwegian Broadcasting Corporation (NRK) is a publicly owned, licence financed broadcaster. Today, NRK has TV and radio channels, the internet platform nrk.no and a major weather forecast on yr.no. 9 out of 10 people in Norway use this company's services every day.
Nina Owing is best known today for her work on NRK's daily evening news programme, Dagsrevyen (The Daily Review). The programme is on NRK1, the main TV channel of NRK, and airs at 19:00. With daily ratings of around 1 million viewers, Dagsrevyen is Norway's most viewed TV show in the country. Educated in Sociology and Theatre Studies at the University of Oslo before studying journalism, Nina went on to work for Norwegian radio and newspapers before beginning at NRK in 1998. Since then, she has gone on to present "Election Night" at NRK for several years from 2003 onwards, and has led conversations with several Nobel Laureates, Al Gore and Martti Ahtisaari among them. Nina Owing is a face known to every Norwegian.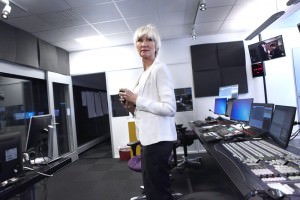 Nina Owing on the way to the TV studios.
Norway's TV since its inception
NRK has a rich history, from its humble beginnings to becoming a vast media house. After Norway's very first broadcasting company was founded in 1925, the first legislation of NRK was passed in 1933. By 1954, Norway was conducting its first tests of television broadcasts, with TV broadcasting officially kicking off in 1960—Norway was one of the last countries to launch TV in Western Europe. The reason? Norway's geography and rural settlement made it a very costly operation.
Radio and TV
From 1933–1981, NRK had a monopoly over broadcasting for Radio, and then TV, and underwent a period of expansion. In 1993, NRK launched P1, P2, and P3, the three-channel radio system, making NRK one of the leading radio broadcasters in the world in terms of market share. In 1996, NRK became an independent company, fully owned by the state.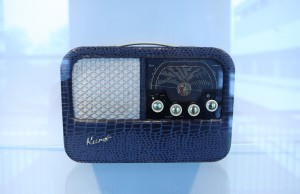 Digital era
Since 1995 NRK has had a website, which is today one of NRK's main platforms besides TV and Radio—one of the most visited websites in Norway.
Today, NRK operates with a budget reported to be five billion NOK and staffs around 3,500 employees. Thankfully, NRK is advertising free, because around 98% of what NRK does is funded by TV licence fees, with no special ties to commercial services.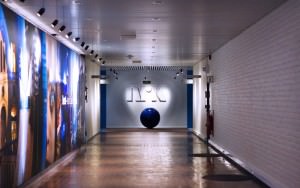 Nina Owing's role at NRK

By night, Nina works on the evening news show Dagsrevyen as a journalist, duty officer, and presenter, but what goes on by day in the run-up to going on air?
"During the daytime we come to plan the whole day, we talk with the journalists, we find out together with editors and the producers what are the big issues of the day."
They decide how to divide up responsibilities, discuss the best angle to come at the day's issues from, and ensure that they deliver fresh news. For this, they need to brainstorm and conduct a lot of research, before contacting the potential interviewees relevant to the big issue of the day to invite them as guests in the studio. There is a hive of activity going on, from running the graphics, to Nina writing up her lines in preparation for interviewing the night's guest at Dagsrevyen. The big issue to be covered is discussed at length, with everybody working to make sure that it's presented as clearly, and extensively, as possible.

Nina laughs, "so it's a long day before we are in the studio actually".

Photos by Dina Johnsen / Text by Georgina Berry