This year's theme for Oslo Pride 2016 is 'Solidarity' and it could not be more timely following the tragic events in Orlando, USA. Oslo Pride is Norway's largest LGBTIQ festival. Over the course of 10 days, you can enjoy a variety of events including art exhibits, political debates, concerts, and parties all aimed at increasing the visibility, acceptance, and respect of the LGBTIQ community in Oslo and the world.
Oslo Pride strives to produce high quality, big FREE events that celebrate human diversity. Free activities are important because the festival aims to be inclusive and accessible to people of all backgrounds. Oslo Pride celebrates all types of gender expression and identities. Whether you are lesbian, gay, bisexual, trans, intersex, or queer: if you're an ally, friend, or family member of the LGBTIQ community—stand in 'Solidarity' at Oslo Pride 2016.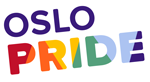 Event Highlights:
Friday 17 June – Oslo Pride 2016 Official Opening Party at Elsker: bar, café, klubb – Kristian IVs gate 9.
Saturday 25 June – Oslo Pride Parade 2016 is the main event of the festival! Last year more than 25,000 people joined and cheered as the parade marched through the streets of Oslo. Organisers hope for another record-breaking turn out this year. If you are interested in joining the parade, please arrive in Grønland near the church at 12:00 and the parade will depart at 13:00. Get updates on the Oslo Pride Parade 2016 route and more information.
Saturday 18 June–Friday 24 June – Oslo Pride House 2016 is an arena for political debates and workshops. Admission is free to all events. See the complete Pride House schedule.
Sunday 19 June–Sunday 26 June – Queer Art Exhibition – Experience over 500 square metres of art at Håndverkeren. Located at Rosenkrantz Gate 7. Admission is free to the exhibit. See all the Queer Art events.
Wednesday 22 June–Saturday 25 June – Oslo Pride Park 2016 – Every year over 60,000 people from all over Norway, Scandinavia, Europe, and the world enjoy free shows, concerts, international DJs, queer exhibitions, and parties at Pride Park right in the middle of the city centre of Oslo at Spikersuppa. Admission is free to Oslo Pride Park 2016. See all the events at Oslo Pride Park 2016!
Oslo Pride Park 2016 Opening hours:

Wednesday: 15:00–24:00
Thursday: 15:00–24:00
Friday: 12:00–24:00
Saturday: 12:00–24:00
ID in Pride Park:

No age limitations during the daytime.
ID: 18 years limit in the whole park after 18:00.
ID: 20 years limit to enter the Pride Bar after 20:00.
Text by Joell Isaah Serrano / Photo: Pixabay