Born in 1970 in a small town
by the name of
Kirkenes, Tone Hansen is the director at Henie Onstad Kunstsenter. She is also the Head of the Arts Council Norway—the institution that defines the Norwegian cultural policy—and as the head of the council, Tone is responsible for allocating a yearly budget of 132 million euros.
Henie Onstad Kunstsenter, one of the most popular art centres in the country today, received over 60,000 visitors in 2015. "This year we expect even more people as Yayoi Kusama exhibition is a major event, it is our pride and joy. Wish me luck!", says Hansen. It is easy to see that Tone is a very determined person, who'd leave no stone unturned to ensure her efforts measure up to her ambitions.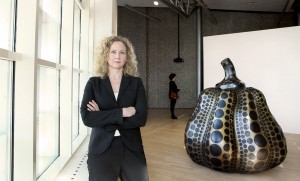 Tone Hansen: "I am incredibly happy with the Kusama exhibition, it has been a major risk in terms of economy considering that it was a very expensive show to arrange", she speaks with a certain amount of pride, "it feels that this project is my best achievement so far."
Boasting a 3,500 square metre exhibition space and an ambitious and dedicated team, Henie Onstad Kunstsenter is the only art centre in Norway that can organise big exhibitions such as this (In Infinity by Yayoi Kusama).
Tone Hansen by the art works of Yayoi Kusama (In Infinity)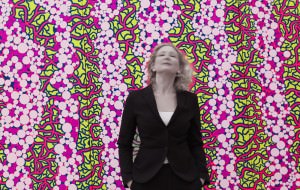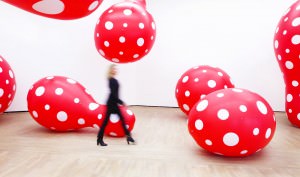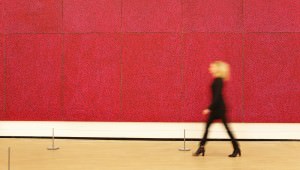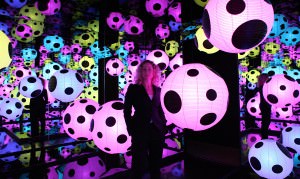 Photos by Dina Johnsen / courtesy of Henie Onstad Kunstsenter.
Nikolai Astrup Exhibition starts on 10 June, 2016
Nikolai Astrup's exhibition, starting in the second week of June (150 paintings), is another signature event for Henie Onstad Kunstsenter. Astrup, one of the most renowned Norwegian artists of all time, transformed the rocky Norwegian landscape into a mystical fairly tale. The upcoming show is the first international exhibition of Astrup's paintings. Launched on 4 February, 2016 in London at Dulwich Picture Gallery, it is coming to Henie Onstad Kunstsenter on the 10th of June, 2016. 
The film: On-site at Astruptunet / Nikolai Astrup: Painting Norway 
Sackler Director of Dulwich Picture Gallery, Ian A C Dejardin at Astruptunet, June 2015. The exhibition at Dulwich Picture Gallery in London will last until 15 May. It will then travel to Henie Onstad Kunstsenter.